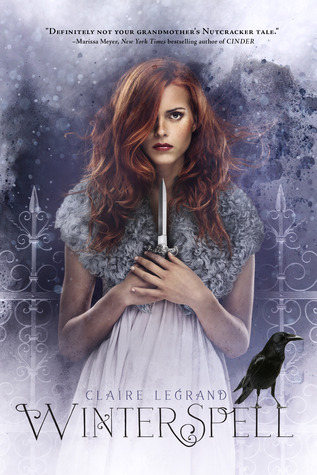 Genre
: Young Adult, Fantasy
Expected day of publication:
September 30th, 2014
Publisher
: Simon & Schuster Books for Young Readers
Formats
: Hardcover, Kindle Edition, eBook
Pages
: 464
Pre-order via:
Amazon
I
Barnes&Noble + Nook
I
Indigo
I
The Book Depository
I
iTunes
I
IndieBound
Synopsis
:
The clock chimes midnight, a curse breaks, and a girl meets a prince . . . but what follows is not all sweetness and sugarplums.
New York City, 1899. Clara Stole, the mayor's ever-proper daughter, leads a double life. Since her mother's murder, she has secretly trained in self-defense with the mysterious Drosselmeyer.
Then, on Christmas Eve, disaster strikes.
Her home is destroyed, her father abducted--by beings distinctly
not
human. To find him, Clara journeys to the war-ravaged land of Cane. Her only companion is the dethroned prince Nicholas, bound by a wicked curse. If they're to survive, Clara has no choice but to trust him, but his haunted eyes burn with secrets--and a
need
she can't define. With the dangerous, seductive faery queen Anise hunting them, Clara soon realizes she won't leave Cane unscathed--if she leaves at all.
Inspired by
The Nutcracker
,
Winterspell
is a dark, timeless fairy tale about love and war, longing and loneliness, and a girl who must learn to live without fear.
I love fantasy, however, it's not the kind of fantasy I usually grab. It sounds wicked though and I need something new.
Claire Legrand used to be a musician until she realized she couldn't stop thinking about the stories in her head. Now a writer, Ms. Legrand can often be found typing with purpose at her keyboard, losing herself in the stacks at her local library, or embarking upon spontaneous adventures to lands unknown. Her first novel is THE CAVENDISH HOME FOR BOYS AND GIRLS, a New York Public Library Best Book for Children in 2012. Her second novel, THE YEAR OF SHADOWS, a ghost story for middle grade readers, is available now. Her third novel, WINTERSPELL, will follow on September 30, 2014, with its prequel e-novella, SUMMERFALL, releasing August 26, 2014. She is one of the four authors behind THE CABINET OF CURIOSITIES, an anthology of dark middle grade fiction due out May 27, 2014 from Greenwillow Books/HarperCollins. Claire lives in New Jersey with a dragon and two cats. Visit her at claire-legrand.com and at enterthecabinet.com.
blog
|
tumblr
|
facebook
|
twitter
|
pinterest