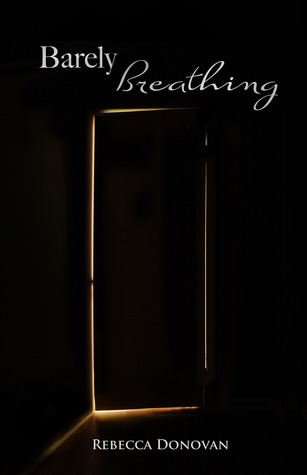 Genre
: Young Adult, Contemporary, Romance
Publisher: Smashwords
Publication:
May 8th, 2012

Pages: 421 (Kindle Edition)
432 (Paperback)
385 (eBook)

Editions: Kindle Edition, Paperback, eBook, Audio book
Purchase via:
Amazon
I
Barnes&Nobles
I
Indigo
I
Abebooks
I
TBD
I
Audible
Synopsis
:
Emma's struggle with an abusive home life came to a heart pounding conclusion in the final chapters of "Reason to Breathe". Now everyone in Weslyn knows Emma's secret, but Carol can't hurt Emma anymore. Some are still haunted by the horror of that night, and some must face the repercussions of their choices. Fans of Rebecca Donovan's debut novel will discover there's still much to learn about Emma's life.
Rating:
MAY CONTAIN SPOILERS FOR THOSE WHO HAVE NOT READ REASON TO BREATHE
In the second installment of the Breathing series, Emma doesn't have to worry about her aunt anymore. However, that doesn't mean the end of her family issues, there are plenty of secrets and problems left. Right now, it's her mother who is not nearly as shine and bright as she appears and despite Emma's best efforts their realtionship is not surely can be honed. At the same time, Jonathan, her mother's new enigmatic boyfriend upends Emma's world with his dark past and understanding that the nightmare-haunted girl has never received before.
Barely Breathing picks up the thread six month after Carol's last, but very worst attack. This definitely left a nasty mark on Emma, she said so, too, however, it didn't manifest in many ways throughout the book, apart from the never-ceasing nightmares. I was surprised how much better Emma became at socializing and showing (any) emotions. Her basic instincts were still the same, especially when it came down to hurt and shock, but she got a lot more easy-going and open. Although I liked the "old" Emma, I liked the "new" Emma as well in spite of the times I could slap her across the face for being so stupid even though I understood her to some extend.
However, the relationship between her and Even irked me a lot in the second half of the book. All the aspects I loved in it the first volume got messed up and came the jelousy, the hard-core pushing-away, not like in Reason to Breathe, but seriously and hurtingly and ickyly. It was no longer free from the usual drama what for I found it so refreshing and adorable.
Furthermore, the plot was very slow to get into motion. Even slower than in the previous installment. Once that happened, it was very exciting, unputdownable eveb, but until that, I almost get bored. And if that wasn't enough, after Jonathan coming into the picture for a while I felt as though the story wasn't about Emma and her mother, Rachel anymore, but Rachel and Jonathan. The main issue revolved around them and it took a while to unravel how it connected to Emma.
After all, I loved Barely Breathing. It wasn't lacking of mystery and emotions and angst. However, not as much as Reason to Breathe, but I did and I mainly thanks for the nerve-racking cliffhanger ending, I will be picking up the next book as soon as I can.
Style/Writing
: 5/5
About the author:
Optimism seeps from every pore of my body. I truly believe that what's supposed to happen... will! In that regard, I don't know how to give up; it's not part of my biological make up.
I'm a passionate (and some would say, overly enthusiastic) person. I learn by doing (and have been burned more times that I'd like to admit), but I will always throw my entire self into whatever I do - fail or succeed.
I think this is evident when I write, leaving nothing behind and spilling it all out on the pages. I give it all to my readers - love it or hate it.
The path I'm on is very often my own, veering off the beaten path at the sight of something more interesting or captivating, getting caught in the vines and thorns in order to experience the beauty and intrigue others often pass by. And I always meet the most interesting people along the way...