Genre
: Young Adult, Dystopian, Romance
Publisher
:
HarperTeen
Publication
: April 24th, 2012
Series
:
The Selection series
Pages
: 327 (Paperback)
336 (Hardcover)
339 (Kindle Edition)
248 (eBook)
Add to Goodreads
Purchase via:
Barnes&Noble + Nook
I
iTunes
I
Amazon
Rating
:
Synopsis
:
For thirty-five girls, the Selection is the chance of a lifetime. The opportunity to escape the life laid out for them since birth. To be swept up in a world of glittering gowns and priceless jewels. To live in a palace and compete for the heart of gorgeous Prince Maxon.
But for America Singer, being Selected is a nightmare. It means turning her back on her secret love with Aspen, who is a caste below her. Leaving her home to enter a fierce competition for a crown she doesn't want. Living in a palace that is constantly threatened by violent rebel attacks.
Then America meets Prince Maxon. Gradually, she starts to question all the plans she's made for herself—and realizes that the life she's always dreamed of may not compare to a future she never imagined.
My thoughts:
In retrospect, it might have been a better idea to review it before reading the installemnts, but I couldn't stop reading to actually do it! It was that good. I finished the entire series in less than half a week. Despite the fact that I hadn't even wanted to read it for a long time, claiming I wasn't interested. It's main theme was romance after all, and I'm not usually into sheer romance without further ado like something paranormal. Well, I was wrong after all, very very wrong.
Since the synopsis summarizes it rather thoroughly, way better than I could, I will start with the review right away. More accurately I will start with the
plot
right away. Honestly, I loved every moment of it. I was engaged maximally, not being able to stop because there was always something happening. It was not only about the Selection and the romance, but the dystopian world and the complications of life as well and these all together resulted an intriguing and colorful story.
Secondly, the
world building
. I really liked the idea of being in the future where anarchy is set up again. This is something that could indeed happen to us, because why not? Who knows how long this system will pull out, if after a 4th World War we won't start changing things dramatically. And frankly, Ms Cass brought out the most of it. The rebel attacks and the layers of it add a lot to the story, the castes and jobs are brilliant and the idea of the Selection is utterly unique. The history piqued my attention, too. I felt as id I was on a real history lesson and was being taught our own past.
However, the most exceeding aspect was the characterization.
I loved the characterization.
The characters were all individuals, some of them lovable, some of them strangable, but all of them as if they were real, breathing people. America, our protagonist, grew the closer to my heart with her stubbornness and strong temper which yet didn't prevent her from being a purely good soul, a person who loves with whole heart and wants to help where she can. I adored her way of thinking, but could have strangled her sometimes, especially when she bottled up and held back things that could have made her situation easier. Maxon, the prince, was a lot different from how I imagined. Through Americas eyes we first think he's stuck-up, just because he is what he is, but when we first meet him...Even though America doesn't even like him in the beginning, it's obvious he's not any of those bad things she thought. In fact, he's caring, loving and smart, and adorably insecure around
crying
women, but knows little about the real misery of the world. Later on they develop a friendly relationship nevertheless, the cutest friendship I have ever seen, however, the affection is visible from the very start. As for Aspen, I didn't think much of him. He was sort of a jerk in my eyes, however, the end left me a little clueless concerning his intentions.
And last but not the least, Kiera Cass's
writing style
is something distinct and charming. More than that, it's captivating. I couldn't quite put my finger on it, but it was so big-time.
Cover
: 5/5
Characters
: 5/5
Plot
: 4.5/5
Pacing
: 5/5
World building
: 4.5/5
Style/Writing
: 5/5
Originality
: 5/5
MAY CONTAIN SPOILERS OF BOOK ONE
Genre
: Young Adult, Dystopian, Romance
Publisher
:
HarperTeen
Publication
: April 23rd, 2013
Series
:
The Selection series
Pages
: 324 (Paperback)
336 (Hardcover, Kindle Edition)
224 (eBook)
Add to Goodreads
Purchase via:
Barnes&Noble + Nook
I
iTunes
I
Amazon
Rating
:
Synopsis
:
Kiera Cass's The Elite is a must-read for fans of dystopian fiction, fairy tales, and reality TV. This sequel to The Selection will enchant teens who love Divergent and The Bachelor.
In America Singer's world, a bride is chosen for the prince through an elaborate televised competition. In the second book of the Selection series, America is one of only six girls left in the running. But is it Prince Maxon—and life as the queen—she wants? Or is it Aspen, her first love?
The Elite delivers the adventure, glamour, political intrigue, and romance readers of The Selection expect, and continues the love triangle that captivated them.
My thoughts:
Last time, I didn't write a summary of the plot, because it wasn't necessary, this time I won't because there isn't really one. I
'm sad to claim it to be a hardcore case of the dreaded "middle book sag"
, but thinking back I can't summon anything, but America's dilemma with Aspen having appeared, who to choose; Maxon or Aspen, Maxon or Aspen, Maxon or Aspen, Maxon or Aspen, Maxon or Aspen...I believe you've gotten it by now, however, I haven't even come close to the depths of the issue.
The whole situation was exacerbated by the
never ceasing sequence of Maxon and America arguing over stupid misunderstandings
which - again- could have been prevented if America would speak what she feels for a change. I found this whole thing rather annoying. Moreover, she was stupidly ignorant sometimes. Not uncharacteristically, but undoubtedly only to engender even more dispute.
As for Aspen
, we
got to know him much more
in the second book and he turned out to be an
okay guy
. He was
protective
and
devoted
and incredibly
persistent
, but not bad overall. Which was definitely not okay though, that America couldn't discern the family kind of love, which was obvious that she felt toward Aspen, from love love. I understand she had a hard time since she'd been with Aspen and had known him for a long time, but it was a bit unbelievable and a lot irking nevertheless once again only to strengthen the "conflict" of the book (a.k.a. America's dilemma).
And with this all, and the rebel attacks that didn't develop much The Elite felt a lot
repetitive
. I felt it in the first book somewhat as well, but I could overlook it next to all the good things and for it wasn't so obvious. In The Elite, it was and there weren't any so positive aspects that could have suppress the impression.
As much as I loved The Selection
was I disappointed with The Elite
. I don't think if it was the first book I would have read it at all not even for Ms Cass's compelling writing style. I did give it three books though, however, I think it was only because I loved the first book and I didn't have the heart to rate it too low.
Cover
: 5/5
Characters
: 4/5
Plot
: 2/5
Pacing
: 5/5
World building
: 4/5
Style/Writing
: 5/5
Originality
: 5/5
MAY CONTAIN SPOILERS OF PREVIOUS BOOKS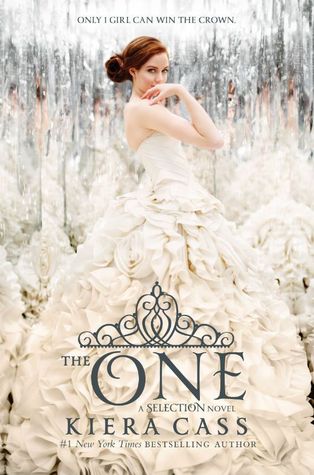 Genre
: Young Adult, Dystopian, Romance
Publisher
:
HarperTeen
Publication
: May 6th, 2014
Series
:
The Selection series
Pages
: 336 (Paperback)
323 (Hardcover)
352 (Kindle Edition)
217 (eBook)
Add to Goodreads
Purchase via:
Barnes&Noble + Nook
I
iTunes
I
Amazon
Rating
:
Synopsis
:
The highly anticipated conclusion to Kiera Cass's #1 New York Times bestselling Selection series, The One will captivate readers who love dystopian YA fiction and fairy tales. The One is the perfect finale for fans who have followed America's whirlwind romance since it began--and a swoon-worthy read for teens who have devoured Veronica Roth's Divergent, Ally Condie's Matched, or Lauren Oliver's Delirium.
The Selection changed America Singer's life in ways she never could have imagined. Since she entered the competition to become the next princess of Illéa, America has struggled with her feelings for her first love, Aspen--and her growing attraction to Prince Maxon. Now she's made her choice . . . and she's prepared to fight for the future she wants.
Find out who America will choose in The One, the enchanting, beautifully romantic third book in the Selection series!
My thoughts:
With a rather sudden change of heart, America decided who she loves at the end(ish) of the previous installment. It was a bit surprising, but at least she knew and that might put an end to the conflicts. Yes? Well, apparently no. America and Maxon continued quarreling, however, somewhat less and that was enough to gift us with a few 'awwwwww' moments. Yet it wasn't like in the first book and not just because their relationship status wasn't the same. I mean, why couldn't they just get along at least most of the time, like in The Selection? And honestly, sometimes I didn't get Maxon's demeanor, especially with girls...
However, at least there was moving forward now. There was plot and there was development. New facts got revealed and the rebel attacks lead somewhere now, though I felt that there could have been a lot more to it.
I liked the girls much more in The One than in the second book. They had changed a lot and became real friends, for the most part at least. They surprised me at some points, but I liked how it all turned out.
I was also happy with how America and Aspen's relationship turned out to be. It was refreshing and definitely a positive change.
But what I didn't like and was disappointed and unsatisfied with was the end. I seemed abrupt and not enough, unsolved. I would have wanted to see more aftermaths of the rather big event that occurred just before the end, because what happened can't be put away with some tears and counting up. It did not leave the reader with the satisfaction of a decent closure. All in all, it was way. Too. Abrupt. I can't emphasize it enough.
Wrapping up, I don't think it was bad, but despite the fact that there was a whole year hiatus between the release of The Elite and The One, it seemed rashed and not worked out properly. Long story short, it could have been a lot better and that's very annoying.
Cover
: 5/5
Characters
: 4/5
Plot
: 4/5
Pacing
: 4/5
World building
: 4.5/5
Style/Writing
: 5/5
Originality
: 5/5
About the author:
I was born and raised in South Carolina, a proud child of the 80's. Also, my dad is Puerto Rican, and my mom is super white. I have neither a Hispanic or Southern accent. No clue why. Growing up, I was awkward. I didn't understand fashion at all (not that I do now) and was never into what was cool while it was actually popular. But I didn't mind it so much because I had a few really great friends and wonderful outlets. By high school, I was a seasoned dancer, diehard theater buff, and in a chamber choir that at one point was tied for third in the nation competitively.
My great ambition when I graduated high school was theatre. I wanted to be a performer in the WORST WAY! I took a semester off, did a bunch of local shows, taught at a theater camp, and went to Coastal Carolina University in the spring majoring in Musical Theatre.
After making a fantastic mistake and essentially following a boy to a different school (and state) I went to Radford University and switched my major to Music. Then Communication. Then History. Maybe a year into college, I was over theatre (though I still love performing) and decided that what I would really like to do was go on staff with the campus church and just be helpful to students. I settled on History because I could finish it on time after switching so much, and because I liked listening to the stories.
Then, those plans were thwarted, too. I met a guy who I kept rejecting but whose heart was set on me. He somehow talked me into moving to Blacksburg, marrying him, and having babies together. I'm still not sure how he did this... well played, Mr. Cass. After that, my main hope was to be a good homemaker and stay at home with our kids when we had them.
In 2007, my world was shaken by a local tragedy, and I took it pretty hard. Over the course of the following year, I tried a lot of things to get myself together resulting in me sitting down to write a story where my character had to deal with my problems so I wouldn't have to. The distance from my head to the page helped me step back a bit and cope with all the things I was feeling. I ended up not finishing that story because I woke up from a nap with the idea that would become
The Siren
and HAD to get that written. After I got into the habit of writing, lots of ideas came, including
The Selection
and handful of others that are waiting their turn.
Once I started writing, I felt like an idiot. How had I not known I loved this all along? Seriously. Dancing, singing, acting, history... it's all just story telling. And I love it.
I self-published The Siren in 2009 (while I was five months pregnant) after not having a lot of success querying it but aching to give it to the handful of followers I had. Their support was a lot of what made me want to continue to try and share my stories with people.
In early 2010 (when my son was just two months old), I started querying The Selection and was lucky enough to find a wonderful agent in Elana Roth. Sometimes I still can't believe she took a chance on me. After a few months, Erica Sussman at HarperTeen snapped up The Selection, and it came out in the spring of 2012 (while I was six months pregnant with my daughter). Now I'm a #1 New York Times bestselling author, and I'm thrilled to have the chance to share my stories with the world.
I currently live in Christiansburg, VA with my hubby and two kids and spend my free time playing on YouTube and twitter and eating cake.