Genre
: Young Adult, Urban Fantasy
Publisher
: Little, Brown Books for Young Readers
Publication
: June 5th, 2012
Series
:
Daughter of Smoke & Bone series
Pages
: 418 (Hardcover, Paperback)
424 (Kindle Edition)
391 (eBook)
Add to Goodreads
Purchase via
:
Barnes&Noble
iTunes
Synopsis
:
Around the world, black handprints are appearing on doorways, scorched there by winged strangers who have crept through a slit in the sky.
In a dark and dusty shop, a devil's supply of human teeth grown dangerously low.
And in the tangled lanes of Prague, a young art student is about to be caught up in a brutal otherwordly war.
Meet Karou. She fills her sketchbooks with monsters that may or may not be real; she's prone to disappearing on mysterious "errands"; she speaks many languages--not all of them human; and her bright blue hair actually grows out of her head that color. Who is she? That is the question that haunts her, and she's about to find out.
When one of the strangers--beautiful, haunted Akiva--fixes his fire-colored eyes on her in an alley in Marrakesh, the result is blood and starlight, secrets unveiled, and a star-crossed love whose roots drink deep of a violent past. But will Karou live to regret learning the truth about herself?
Rating:
My thoughts:
Karou is a girl who's attending art college. She's gifted with an amazing talent and imagination. She's drawing strange creatures, half human half something else as a real comic and insists they're real. That's impossible though. Or is it? Who's this girl whose hair grows blue out of her head and goes home to an alley door?
Laini Taylor has really got magic. Magic writing at the very least. Straight on the first page when nothing really even began to happen, the book compelled me and sucked into this colorful and intriguing world of magic.


The world building was indeed very complex. There were these unique creatures that raised Karou and trade teeth, angels and magic I'd never seen before. Souls, teeth, bodies, death, life, talismans, tattoos all used up quirkily and brilliantly.


The story was full of unexpected turns. Really, I would have never guessed any of it and it was also interesting and, once again, unique. It can't be described as anything else, but so.


As for the characters, I liked Karou a lot. She's an independent, strong, brave girl with so much love in her heart even if she's hurt or betrayed. Akiva became one of my favorite MMCs as well. You can call him book boyfriend if you like. He's more sensitive than most of the guys in YA books, but it was definitely a good kind of difference. However, as much as he had gone through he could be ruthless as well, but never without (profound) reason.


The only thing that I consider somewhat wrong is that the pacing was sometimes slow for me. I even got a rad bored time to time which was a pity with regards to the genius plot.


Anyway, MAJOR CLIFFHANGER ENDING WARNING.


On the whole, I'm curious about how Karou's adventures will go on and can't wait to pick up the second book.
Rating breakdown:
Cover
: 5/5
Characters
: 5/5
Plot
: 4/5
Style/Writing
: 5/5
Originality
: 5+/5
About the author:
Hi there! I'm a writer of fantasy books for young people, but my books can be enjoyed by adults as well. My 'Dreamdark' books, Blackbringer (2007) and Silksinger (2009) are about faeries -- not dainty little flowery things, but warrior-faeries who battle devils. My first young adult book, Lips Touch, is a finalist for the 2009 National Book Award! It's creepy, sensual supernatural romance. . . about kissing. I am also an artist with a licensed gift product line called "Laini's Ladies."
website
I
Twitter
Continue the series!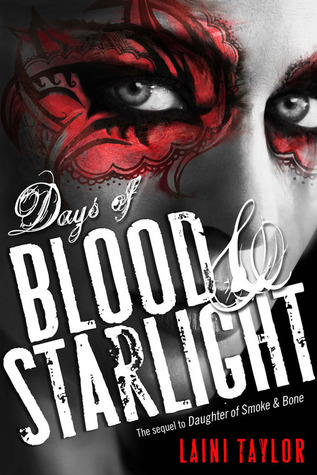 Once upon a time, an angel and a devil fell in love and dared to imagine a world free of bloodshed and war.

This is not that world.

Art student and monster's apprentice Karou finally has the answers she has always sought. She knows who she is—and what she is. But with this knowledge comes another truth she would give anything to undo: She loved the enemy and he betrayed her, and a world suffered for it.

In this stunning sequel to the highly acclaimed Daughter of Smoke & Bone, Karou must decide how far she'll go to avenge her people. Filled with heartbreak and beauty, secrets and impossible choices, Days of Blood & Starlight finds Karou and Akiva on opposing sides as an age-old war stirs back to life.

While Karou and her allies build a monstrous army in a land of dust and starlight, Akiva wages a different sort of battle: a battle for redemption. For hope.

But can any hope be salvaged from the ashes of their broken dream?