Genre
: Young Adult, Paranormal, Romance
Publisher: Entangled Teen
Publication:
September 2nd 2014
Formats:
Kindle Edition, Hardcover, eBook
Pages: 320
Amazon
I
TBD
I
Alibris
I
Barnes&Noble
I
Kobo
I
Abebooks
I
iTunes
Salome Montgomery fears winter—the cold, the snow, the ice, but most of all, the frozen pond she fell through as a child. Haunted by the voices and images of the strange beings that pulled her to safety, she hasn't forgotten their warning to "stay away." For eleven years, she has avoided the winter woods, the pond, and the darkness that lurks nearby. But when failing health takes her grandparents to Arizona, she is left in charge of maintaining their estate. This includes the "special gifts" that must be left at the back of the property.
 


Salome discovers she's a key player in a world she's tried for years to avoid. At the center of this world is the strange and beautiful Nevin, who she finds trespassing on her family's property. Cursed with dark secrets and knowledge of the creatures in the woods, he takes Salome's life in a new direction. A direction where she'll have to decide between her longtime crush, Colton, who could cure her fear of winter. Or Nevin, who, along with an appointed bodyguard, Gareth, protects her from the darkness that swirls in the snowy backdrop.

An evil that, given the chance, will kill her.
I received a Galley copy from the publisher in exchange of an honest review. Thank you!
Where to start this?
I love the cover. It reflects the concept of the book perfectly and that quote in the middle sends chills down my spine. Absolutely foreboding. Yeah, the cover is good. I love the cover.
Okay, down to the serious business. One thing that captivated me in the book (apart from the cover :P) was the writing style. It was probably the book's strongest point, something that sucked me in. Salome has the narration and she does it with a wide variety of words, still managing to not make it overly difficult to read. But what I liked the most in it was that it was the farthest away from monotone. In fact, it was one of the most living writing voice I have ever had the luck to encounter.
The mystery was another well-solved aspect. The curse and the cult around it was built up secretively and slowly, though a little too slowly at times I might add, hence it was interesting until the very end of the book. Voices from an unknown evil were haunting Salome all along, and she met boys centuries old. And why was it so important to keep the gates locked and the bird feeders full of distinct - not much fitting - things?
To my sadnass, it only lasted for about 2/3 of the book. When the main part of the world building was done and the winter was coming to an end, Salome felt better, too and it all morphed into a little entertaining love story with occassional action scenes.
Speaking of love, it totally disappointed me. Right in the beginning, it became a love quadrangle which also seemed insta-love.
I
felt embarassed that Salome was drawn to three guys at the same time. However, later on it all got explained and I let the affair go, the romance still wouldn't click. She kept shuttling back and forth between Nevin and Gareth, the full-of-himself guy, who made a habit of deceiving her and lying to her and the guy, who was always there to save her and cheer her up. Am I the only one who doesn't see the question? If you're not convinced, there's one last crucial factor that's unfortunarely a spoiler as well, so peek with caution.
She excuses herself saying the old feelings die hard. What feelings? The bloak seduced her with magic...
On the whole, it's a shame for the slow pacing and the lacking romance. It would have been a great book.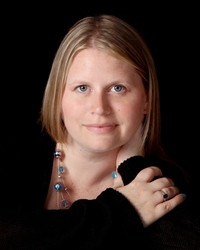 I was born and raised in Michigan (just look for the giant mitten on the map—it'll likely throw a snowball at you). I spent most of my time in Michigan, but while in the army got to call KS, SC, MO, and CA home for awhile as well.
As a kid my family moved around a lot. Try spending both your freshman and senior years at new schools (yeah, loads of fun). I could've changed my name to "new girl".
I love writing for teens because those are the years I remember falling in love with most of my favorite books. Some of the authors I couldn't put down were L.J. Smith, Christopher Pike, R.L. Stine, Richie Tankersley Cusick, Joan Lowery Nixon, Lois Duncan, amongst several others.
My husband and I have a large family. There are six kids total! So we have LOTS of fun on vacations (although hours on the road, cooped up in the Expedition is kind of stressful—although we pass the time with MAD LIBS and hoping no one gets carsick).
Some fun facts about me:
My first real crush was on Luke Skywalker (LOL—hey, I was like 8 years old and it came out before I was born).
I'm obsessed with several TV shows/Movies: The Vampire Diaries, Lord of the Rings, Star Wars, Sean of the Dead, The Sing Off, Ghost Hunters, Destination Truth, True Blood, Being Human, Fact or Fake, and all the cake designing ones! Oh and all the spoof movies!
I still own all the books I bought as a kid/teen.
I have a hankering for chocolate (like all the time, seriously. If my arm was made of it I'd chew it off).
Celebrity crushes: Johnny Depp (woohoo), Taylor Lautner (okay, I know he's kind of young for me), Ian Somerhalder (ooh, he's just right. We're the same age). Wow, this was like a Goldie Locks and the Three Bears moment. Johnny Depp too old, Taylor Lautner too young, Ian Somerhalder—JUST RIGHT.
In my spare time I like to write (obviously), read, sing, hang out with my kids, play with my animals, camp, play soccer, check my email (hehehe), watch football (go LIONS). I also love hanging out with my sister and hubby!
Look forward to chatting with everyone! And if you're lucky, I'll break out the opera voice and chase you around singing!